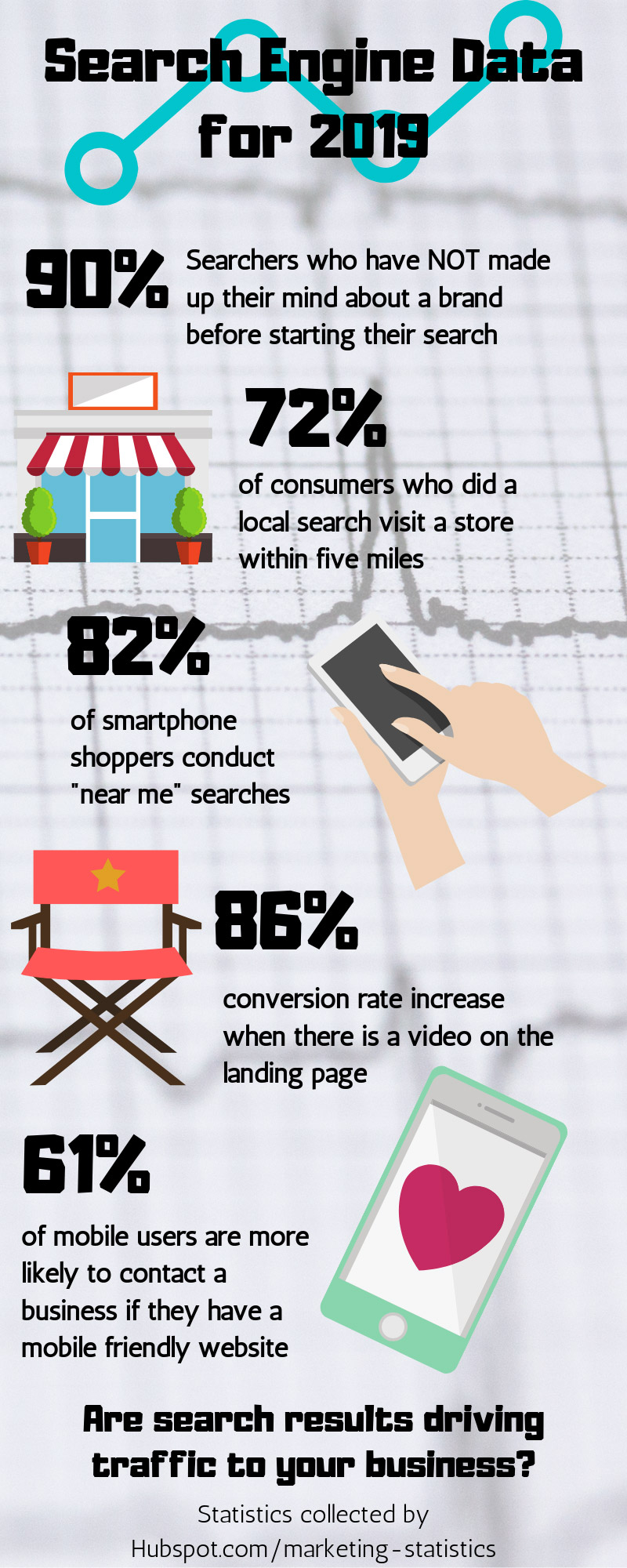 Search Engine Statistics for 2019
Knowing the opportunities available only increases the ability to implement effective marketing and advertising strategies. Below you'll find the statistics displayed in the above infographic as well as additional statistics related to search results and conversions.
A Bit More Detail
Only about 22% of businesses are satisfied with their conversion rates. (Econsultancy, 2016)
Using videos on landing pages will increase conversions by 86%. (Wordstream, 2018)
90% of searchers haven't made their mind up about a brand before starting their search. (Status Labs, 2018)
70-80% of search engine users are only focusing on the organic results. (MarTech, 2018)
Organic SEO is about 5.66 times better than paid search ads. (New Media Campaigns, 2018)
72% of consumers who did a local search visited a store within five miles. (Wordstream, 2016)
82 percent of smartphone shoppers conduct 'near me' searches. (Search Engine Land, 2018)
28% of searches for something nearby result in a purchase. (Google, 2016)
Local searches lead 50% of mobile users to visit stores within one day. (Google, 2018)
61% of mobile searchers are more likely to contact a local business if they have a mobile-friendly site. (Junto, 2019)
Content marketing gets three times more leads than paid search advertising. (Content Marketing Institute, 2017)
(Source: https://www.hubspot.com/marketing-statistics)
The Purpose for Marketers
Data can allow us to make educated decisions when it comes to making choices for our clients or our own business. Data can also be beneficial to back up your choices and display the reasoning behind your decisions. It can be tempting to rely on your "gut" and just run with what you have always felt works well in your industry. However, taking a look at statistics can create new opportunities to change how you may operate and inform better practices. As social media, search engines, and other elements of digital marketing grow and change, knowing the statistics realties is pivotal for success.